School of Economics and Business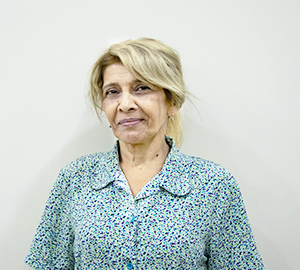 Gulnara Hajiyeva
PhD in Economic , Associate Professor
History and method of Economics. Current problems of the World economy, Accounting, Account management. Audit Financial Management, Budget and Treasury Accounting
+994 12 565 39 77
gulnara.haciyeva@wcu.edu.az
1982-ci ildə Bünyadzadə adına Xalq təsərrüfatı İnstitutunun (hazırki UNEC) uçot-iqtisad fakultəsini əlaçı diplomu ilə bitirib. 1986-cı ildə AMEA İqtisadiyyat İnstitutunda iqtisad elmləri namizədi (hazırki iqtisad üzrə fəlsəfə doktoru) elmi dərəcəsini alıb. 2006-cı ildə AAK tərəfindən dosent adına layiq görülüb. 1999 (avqust-noyabr) "Holland sindromu problemi" üzrə ABŞ-nın Oklahoma ştatının Oklohoma Universitetində apardığım tədqiqata görə Universitetin diplomuna layiq görülüb.
Elmi nəşrlər
Ümumilikdə 70-ə yaxın elmi-tədqiqat işinin müəllifidir. Onlardan 20-ə qədəri xarici nəşrlərdə, digərləri isə yerli nəşrlərdə dərc olunmuşdur. 
Son dövrlərdə xaricdə dərc olunan məqalələr - Modeling The Impact Of Innovation On Industrial Competitiveness And Regulation Of Leasing Relations (7th International conference Science and society – Methods and problems of practical application 15th February 2019 Vancouver, Canada); The problem of migration of the Turkish people and labor market liberalization(XV International Scientic and Practical Conference «Social and Economic Aspects of  Education in Modern Society» July 25, 2019 Warsaw, Poland); 
Yerli jurnallarda - Azərbaycanın sənaye siyasəti dövlətin iqtisadi inkişafda iştirakının mütləq atributudur (QƏRBİ KASPİ UNİVERSİTETİ ELMİ XƏBƏRLƏR İctimai və texniki elmlər seriyası SAY 3 – 2018.);
Dərs vəsaiti - Управленческий учет. Учебное пособие.Баку.2017 (həmmüəlliflə);
İdarəetmə uçotu, Metodiki vəsait.Bakı.2018 (həmmüəlliflə);
Maliyyə, mühasibat üçotu və audit ixtisasları üzrə 20-ə qədər proqram və metodik vəsaitin müəllifiyəm.
Almaniya, Kanada, Polşa, Rusiya,Ukrayna,Kazaxstanda keçirilən elmi-praktik konfranslarda məqlələrim dərc edilmişdir.
2006-ci ildən Qərbi-kaspi Universitetinin dosenti vəzifəsində çalışıram.