About university
FOUNDER'S FOREWORD
We are pleased to tell you about Western Caspian University, its contents, ideas, activities and achievements to date. We have been in existence for twenty-seven years, which is not very long in comparison with universities that have been functioning for decades, even centuries. However, the results we have attained in this short period of time inspire us with a strong belief in Western Caspian University's bright future. Western Caspian University is young and there is much to be done to keep it flourishing but we are gradually moving towards the objectives we have set for ourselves. We continue to broaden our activities and extend our contacts. We are open and flexible to positive change in all directions! We strive to be progressive and keep in step with the times. We are truly optimistic about the future of Western Caspian University and look forward to continued success in all our undertakings.
PROFESSOR HUSSEIN BAGIROV
OVERVIEW
Western Caspian University, established in 1991, is the first private higher educational institution in Azerbaijan. The University has become a member of several significant institutions, including the United Nations Educational, Scientific and Cultural Organization – UNESCO (1992); the European Development Fund (EDF) (the European Centre for Development Policy Management - ECDPM) (1996); The Black Sea Universities Network (BSUN, 1999); The International Institute of Administrative Sciences (IIAS, 2000), and The European Association for Tourism and Leisure Education (ATLAS).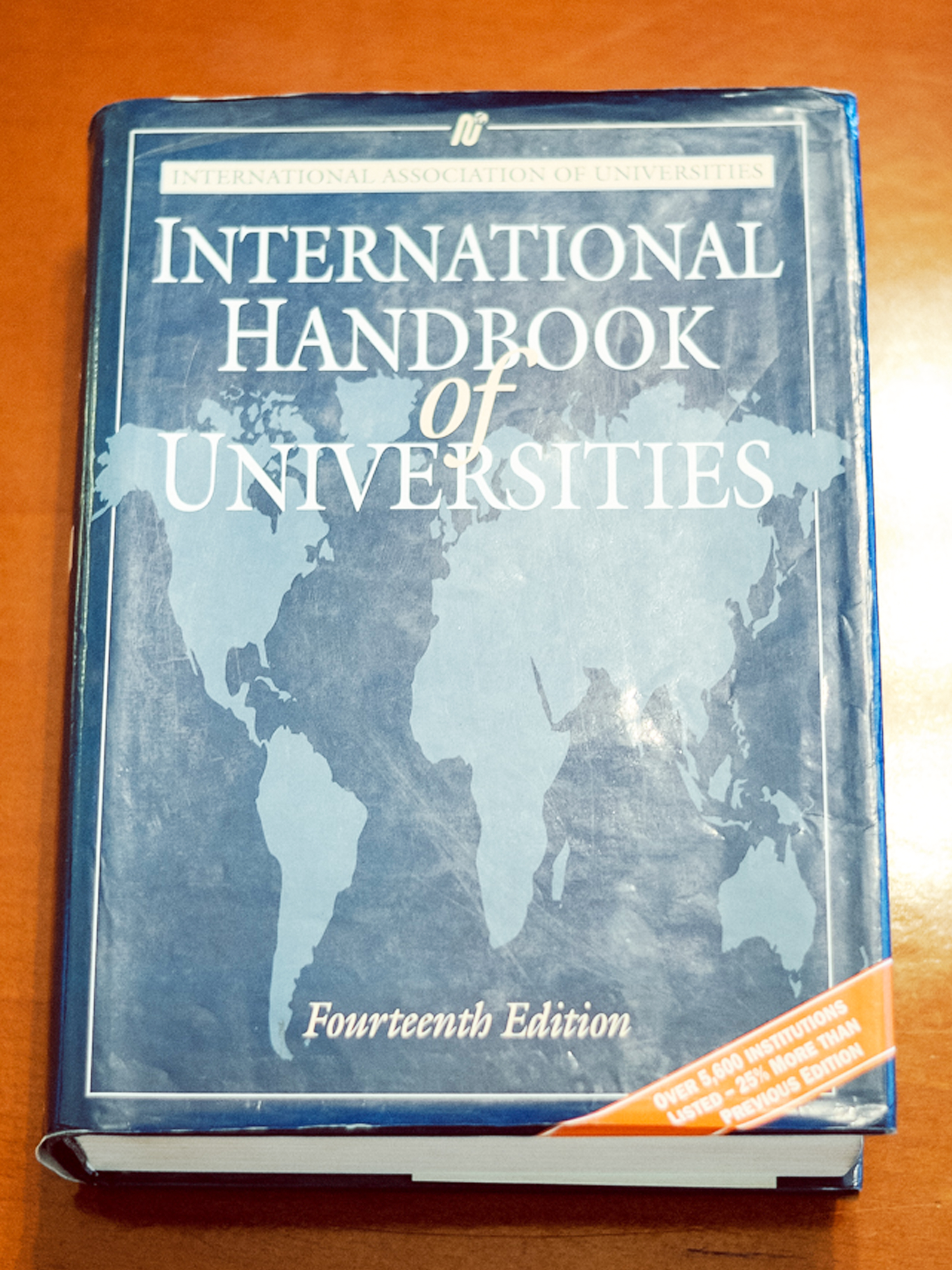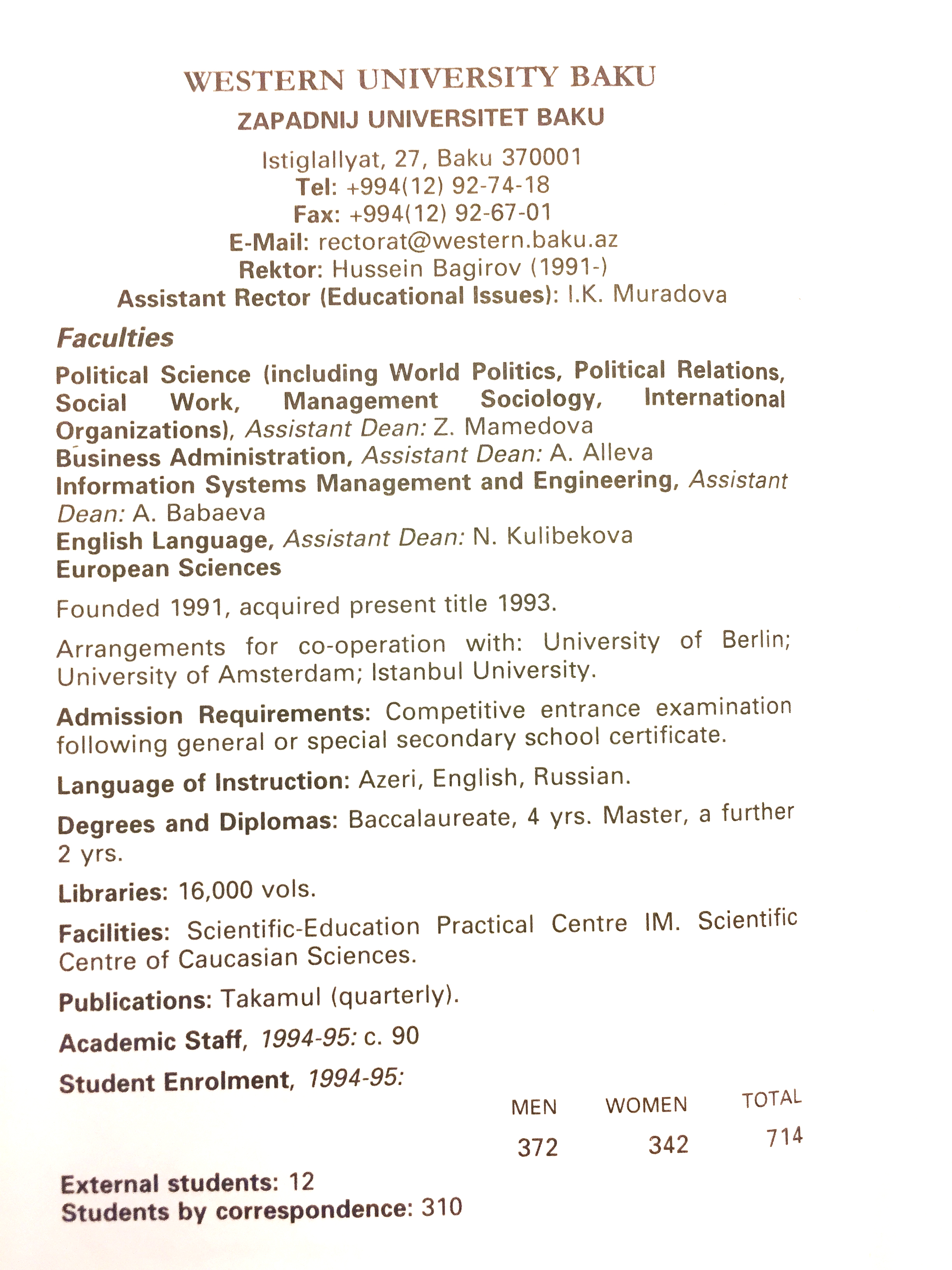 Western Caspian University maintains close co-operation with many authoritative international educational institutions. According to various reviews, Western Caspian University ranks near the top of the ten best newly established universities in this emerging geographical area. The founding of this institution was influenced by the socio-political and economic processes passing in Eastern Europe and the CIS area after the collapse of the USSR in 1991. The aim of the university is to create the perfect educational atmosphere for internationally minded and globally recognized training, as well as to prepare students for achieving systematic success in their future career at global and international levels. To the present date, Western Caspian University has participated in several international programs and projects through which it has widened its academic activity, strengthened its position in the world of education and created a favourable atmosphere for its future development.
There are 8 faculties (schools), 11 departments and 22 chairs in the university. There are 152 academic staff, 27 of them are doctors of science, professors; 42 of them are associate professors. The University accepts students from all over the world regardless of race, sex, language, nationality or religion. Currently, the international community of the university includes students from Turkey, Albania, Portugal, Georgia, Iran, Nepal and Russia. Our mixed-cultural society creates a favorable environment for education and training. Western Caspian University offers students the opportunity to gain the necessary knowledge and skills to keep up with the demands of a rapidly growing world.
Every year, Western Caspian University, along with local experts, also invites lecturers from the US, UK, France, Germany, the Netherlands and other countries. Western Caspian University provides students with an opportunity to study abroad in Europe, the United States and other countries for both short and long term immersion. The university provides students with the opportunity to participate in international student exchange programs like Erasmus Mundus, Mevlana and other international programs. Western Caspian University provides an MBA programme in cooperation with the University of Business and International Studies (UBIS).
The University continues to modernize its structure. At present, consistent measures are being taken to strengthen the infrastructure, material, and technical components. Modern, unique laboratories in various fields have been added as well as updating the teaching methodology and adaptation to reach the highest international standards. Our goal is to develop professional skills and leadership qualities for graduates in the fields of business, governance and other areas for successful careers based on multicultural and national values and built on up-to-date technology and standards.
We look forward to welcoming you to Western Caspian University!