The Global Forum was held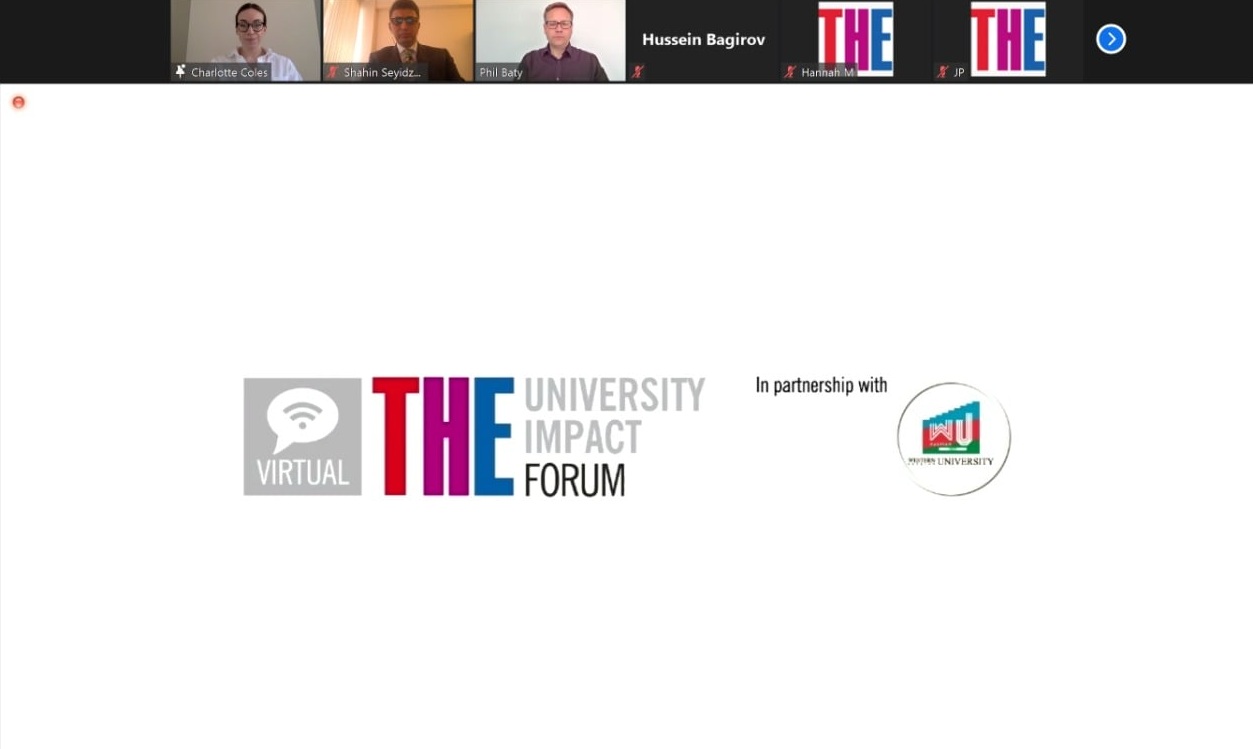 The Western Caspian University hosted a Global Forum on "Transformative Approach to Education" dedicated to quality education, the 4th UN Sustainable Development Goal, in partnership with Times Higher Education and the Western Caspian University.
The Forum, which was attended by about 1,000 university representatives, scientists and researchers from about 100 countries, was opened by Phil Baty, General Manager of Knowledge at Times Higher Education. He noted that the educational process has faced serious challenges and difficulties over the past year due to the coronavirus pandemic, which has forced the world to transform from traditional to online education. Phil Baty said that hundreds of millions of people have been deprived of the right to education as a result of this process. He noted that the forum will discuss new approaches to ensuring quality education, which is the fourth goal of the United Nations for sustainable development, and exchange views on the future of education.
Shahin Seyidzadeh, Member of the Parliament, member of the Committee on Science and Education of the Republic of Azerbaijan, informed the participants about the experience of Azerbaijan during the pandemic.
Then there was a speech by the Chairman of the Board of Trustees of the Western Caspian University, Professor Huseyn Bagirov. The professor noted that the modern education system is built within a narrow specialization, which is not in line with today's challenges: "We must apply a holistic approach to education. There is a unity between dynamic economic development and quality education. Developed countries are constantly modifying their education policies and systems to adapt to the demands of the times. The STEM approach currently used in those countries still covers only the engineering and exact sciences. In fact, STEM should be considered as an approach that must be applied not only to secondary schools, but also to all specialties in higher education. As a result, universities do not have to train personnel in different, unrelated sciences and professions, but can achieve the priority of training specialists who can envision problems at all levels of society, on different platforms, find solutions to them, work in teams, have universal knowledge and independently acquire the necessary information to solve the problems".
Afterwards, speeches of scientists and researchers from a number of prestigious universities were heard, new global trends created by the post-pandemic period, problems and prospects in this field were looked over.
Director of the UNESCO Institute for Lifelong Learning David Atchoatena, Director of the Institutional Development Department of the European University Association Tia Loukkola, world-famous Azerbaijani scientist, honorary professor of the Western Caspian University Masud Efendiyev, Member of Parliament Parvin Karimzade, ADA University Vice-Rector Fariz Ismayilzade, Head of the Department of Higher and Secondary Special Education at the Ministry of Education Nijat Mammadli, Dawn Freshwater, Vice-Rector of the University of Auckland, Charles Hopkins, Head of the UNESCO Department of York University and others spoke about the experience of different countries and universities, discussed problems and prospects.