Republican scientific-practical Conference: Global challenges and prospects in economic development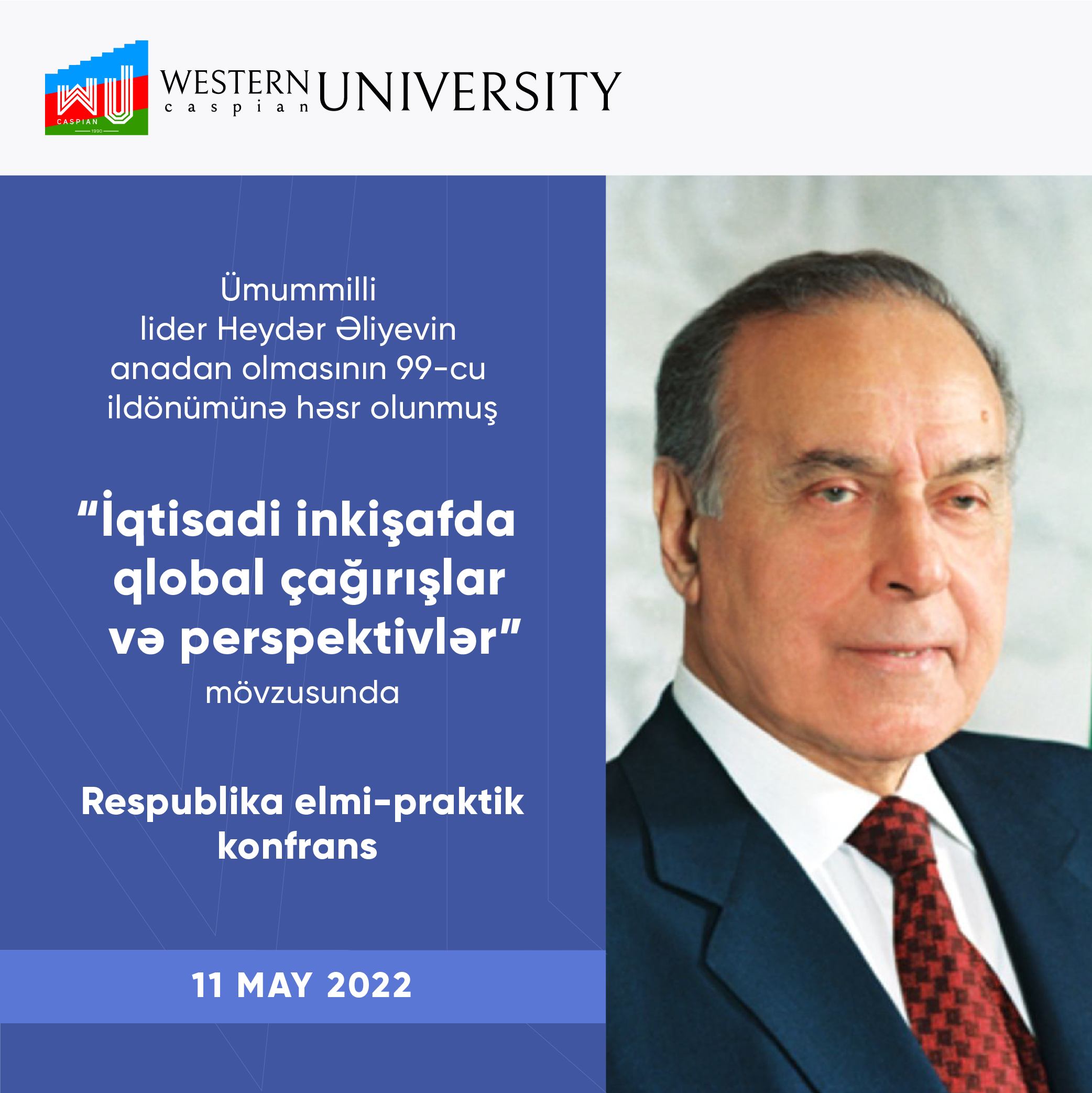 The Republican scientific-practical conference "Global Challenges and Prospects in Economic Development" dedicated to the 99th anniversary of national leader Heydar Aliyev is to be organised by Western Caspian University on May 11th, 2022.
Articles or abstracts submitted to the conference will be published in bulk.
The conference will consist of the following sections:
Integration of Azerbaijan into the world economic system in the context of globalization
Direction of regulation of financial markets and monetary mechanism
Service development and innovation management
Direction of socio-economic development of the regions
Diversification of industry
You can send articles and abstracts related to the conference by registration form until 10.05.2022:
Rules regarding material submitted to the conference:
Conference materials must be written in Azerbaijani, Russian or English. The text should be typed in Microsoft Word for Windows Times New Roman (font size-12, spacing-1), A4 standard (210x297 mm) - left, right, top, bottom 2 cm -5 pages.
Indicate at the beginning of the text the relevant section, then the researcher's last name, first name and patronymic, underneath it the scientific degree, the name of the institution, e-mail address, telephone number and in the centre of the next line the title of the conference material.
References and sources of the scientific literature used in the conference material should be indicated as follows:
-  A Bibliography is given at the end of the text in the order of occurrence.
- The list of literature is provided on the basis of the requirements of the Supreme          
   Attestation Commission under the President of the Republic of Azerbaijan.
- Scientific articles and monographs of the last 5-10 years should be given preference      
   in the list of literature.
- The number of the referenced literature is indicated in the text.
- At the end of the conference material, a summary is given in English, unless that is
  the language in which it is written. The summary should include the name of the
  article and the author.
Authors are responsible for their articles.
Contact:E-mail: conference.2022@wcu.edu.az
Phone: (051) 693-07-03; (070) 690-07-03; (012) 492-74-18
Address: AZ 1001, Baku, Istiglaliyyat str.31