Webinar on COVID-19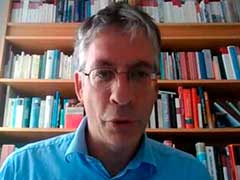 A webinar on Covid-19 was organised by Western Caspian University and its partner the German University of Applied Sciences, Akkon. The webinar was opened by Roland Göhde, Chairman of the Board of the German Health Alliance.
The participants heard a lecture on Covid-19 by Professor Timo Ulrichs, one of the world's leading scientists on infectious diseases.
Professor Ulrichs said that despite the rumors, there was no scientific evidence to support allegations that Covid-19 was deliberately distributed by China. Professor Ulrichs also shared his views on the effects of new Covid-19 variants and the fight against these variants, noting that there may be side effects of vaccines, which are difficult to determine at present.
At the same time, the professor said that we are already aware of the complications of this disease, and in any case, vaccination is the most effective means of protection. At the end of the event, Professor Ulrichs answered questions from the participants.